New year, new blog post to chronicle our ice fishing adventures and outings. Hope to do a lot of exploring, trying new spots, species and tactics this winter. Will be posting most of the season's ice fishing results here, sorted by date in reverse order, to make for easier chronological reading.
Jan 15th:
With my older boys going back to Cegep next week, we decided to try a new spot for stocked trout. The outfitter recently changed ownership, and though the new owners stock brook trout in the winter, there are some good rainbow trout left in the lake some previous summer stockings.
We were given 5 "brimbale" lines to use, and as usual, brought along our own jigging rods. I used a small spoon tipped with a mealworm, while Ari and Avi slow jigged a double worm rig to slow jig with.
20+ inches of solid ice on the lake, and we had to prospect and discover, so we had quite the workout drilling all over until we managed to locate the right area and depths. Avi struggled most of the morning. Keeping the 5 brimbale lines for himself, as well as 2 jigging rods didn't help much.
All the while, Ari and I caught a variety of brook trout and rainbow one after the other, a couple nice big ones mixed in with mainly stocked size fish.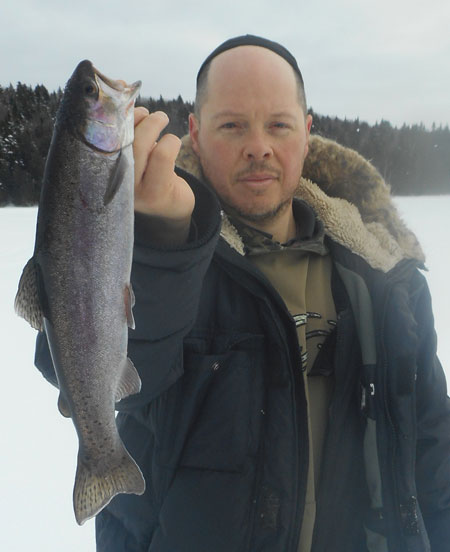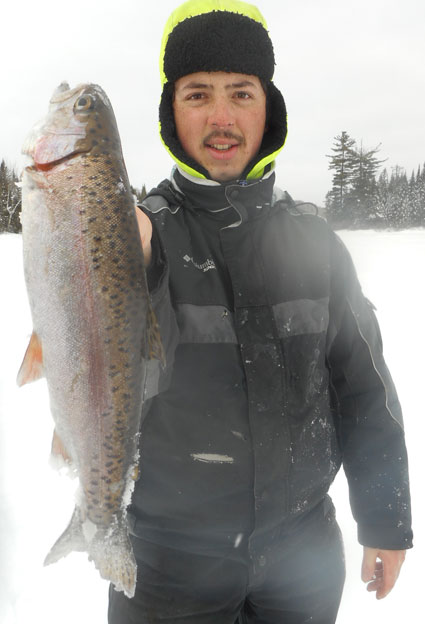 Avi eventually manage to catch some as well, mainly jigging, only 2 trout landed on the brimbale lines all day. We ended up keeping 30 trout, and got my new yearly "year pic" of trout for 2019 with the boys.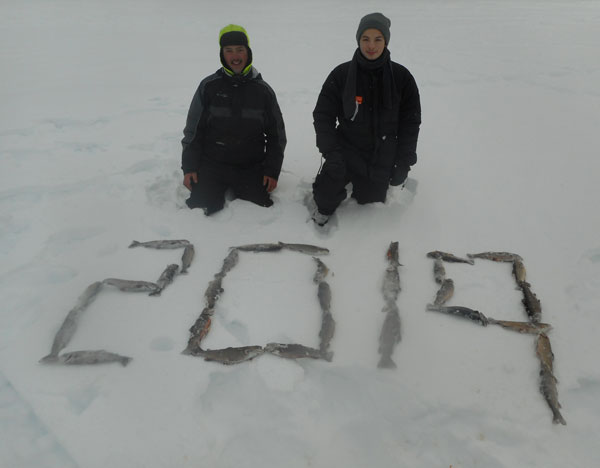 Jan 10th:
Ari and I decided to stay local in zone 8 for the day. With generous allowance for 10 lines per person, I set up 8 lines with various bait hoping to lure in some carp under ice, while Ari jigged for bass with the flasher and set up a pike line as well. After drilling double 9 inch holes for the carp with Ari's Jiffy, I stayed mobile with the hand auger, prospecting for bass while waiting for carp to hit.
Morning was very slow, nothing at all. Just after noon, Ari's pike flag went up, but he fumbled on the hookset and ripped the hook out of it's mouth. The pike never returned. Not too long after, I managed a perch and small largemouth bass.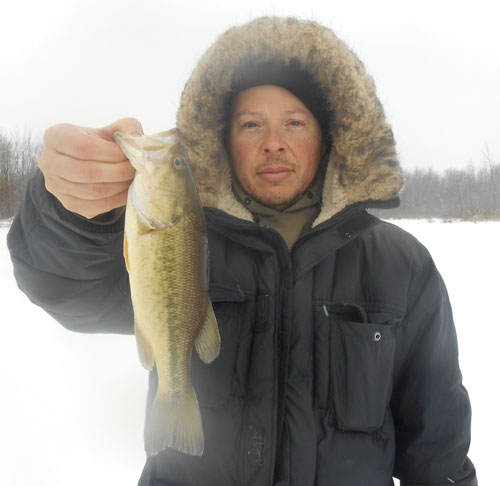 Ari landed a small sunfish, and lost a tiny bass at the hole, and I caught some more pumpkinseed sunfish. No carp hits, we left by mid afternoon to avoid traffic on the way home.
Jan 8th:
One of my main goals for the ice fishing season, is to explore and prospect new spots. Nothing more rewarding than figuring out and catching fish on a new waterbody.
For this outing, I headed down to the Eastern townships, to fish Lake Memphremagog. Though I have fished for perch on ice there in the past, this time my target species were brown and rainbow trout on a deeper section of the lake. I chose not to use any tip ups, as I prefered to stay mobile. After a bit of trekking form where I parked, I found a nice dropoff to prospect. Drill, jig for 5 minutes with a medium sized lure, then again another 5 minutes with a small lure. No hits, start over 30-50 feet further away. Rinse, repeat, etc.
Fishing was extremely difficult. After a couple hours, I managed to land a small lake trout jigging a small kastmaster spoon tipped with a capelin head. Lake trout fishing is closed in winter here, so didn't bother with a pic.
Another few hours without even seeing a fish on the flasher, until I got a nice hit from a good size fish in 7 over 10 feet of water, Came off after 2-3 seconds. Frustrating, as it could have been anything, brown trout, rainbow trout, landlocked salmon, lake trout or pike, they all share the same areas from what I'm told.
Day ended with me landing a couple small perch.
Jan 3rd:
First outing of 2019, I decided to try fishing a spot where I enjoyed some good float tube bass fishing last summer. Being the first time fishing that spot on ice, I left the tip ups at home, and decided to "run and gun" a large area, drilling and fishing until I was able to hook up, hopefully with some decent bass and / or panfish.
Got to my spot and started fishing around 10 AM. Not much doing at various depths, so I trekked to the end point of where I planned to fish, then worked my way back, drilling various depths, and then fishing each hole, first jigging with a Rapala W3 jigging rap, then with a mini kastmaster spoon. Both were tipped with live mealworms, and with the help of my Humminbird flasher, I'd know when I eventually found the right spot.
With 13 inches of solid ice and outside temp of -10, the drilling was a bit tougher than normal, as 8 inch hand auger built up quite a bit of ice on the auger's fins. After 3 hours and 15 holes drilled, I had only landed one small perch. Stopped for a snack, and on my next hole, I knew I had found the motherload. The bottom 3 feet were heavily stacked with fish, to the point that it looked like a thick weedbed.
First drop landed a nice 7 inch bluegill.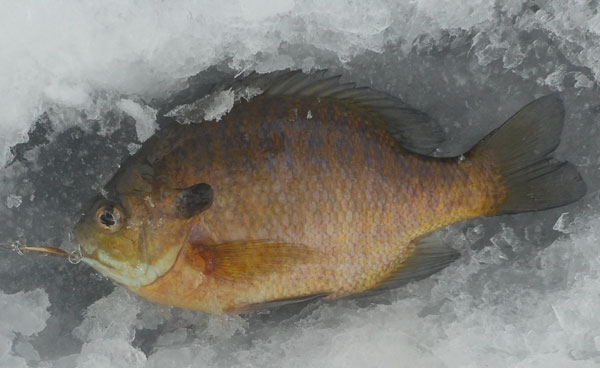 After landing a small pumpkinseed sunfish and some perch, I finally hooked into my first bass of the day, a good 12 inch largemouth. Not quite the size I hoped for, but I was very happy to have accomplished landing my first bass on ice from that spot, as well well as my first bass of 2019.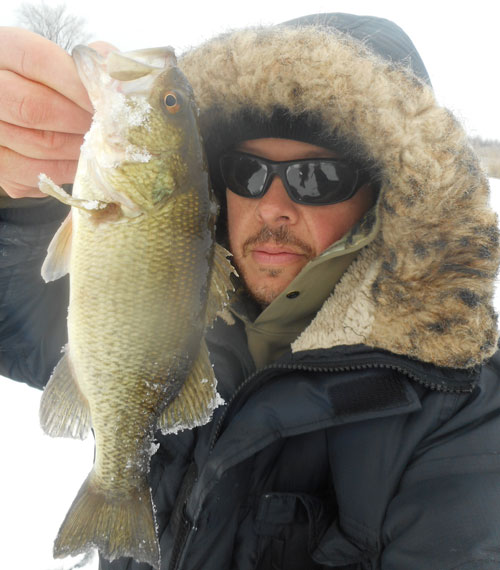 Needless to say, I didn't bother drilling any more holes. Over the next 3 hours, I managed to land a total of 5 bass, 6 pumpkinseed sunfish, 11 bluegills, and 14 perch. No monsters, but the non stop action of constantly releasing cold, wet fish in minus -15 windchill had my fingers sort of frozen by evening. Regardless, I was quite happy with the outcome of the outing, and Zev and I enjoyed a tasty and healthy breakfast of fresh caught perch the next morning.
Hope to get out for some trout next week, stay tuned...